The new 4-Port USB 2.0 Extender via Fiber Optic Cable from NTI is its latest addition to its massively popular line of USB Extenders. The XTENDEX® USB Over Fiber Extender extends four USB 2.0 devices up to 820 feet (250 meters) using a single SC singlemode or multimode fiber optic cable.
The Extron DTP2 T 204, a four-input switcher with integrated DTP2 transmitter for sending HDMI and control up to 330 feet (100 meters) over a shielded CATx cable to an Extron DTP-enabled product, is the newest addition to Extron's range of DTP Systems. It supports computer and video resolutions up to 4K/60 at 4:4:4 chroma sampling.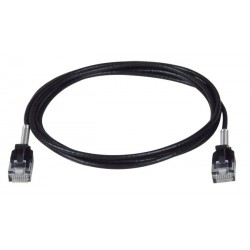 The new VPI Cat6a Ultra-Thin Slim Patch Cables with Strain Relief Spring are now available. The cables are only 0.11" in diameter, thinner and lighter than standard CAT6a cables, and are ideal for high density datacentre applications.