Antibacterial/Antimicrobial CAT6a Shielded Patch Cables combat virus transmission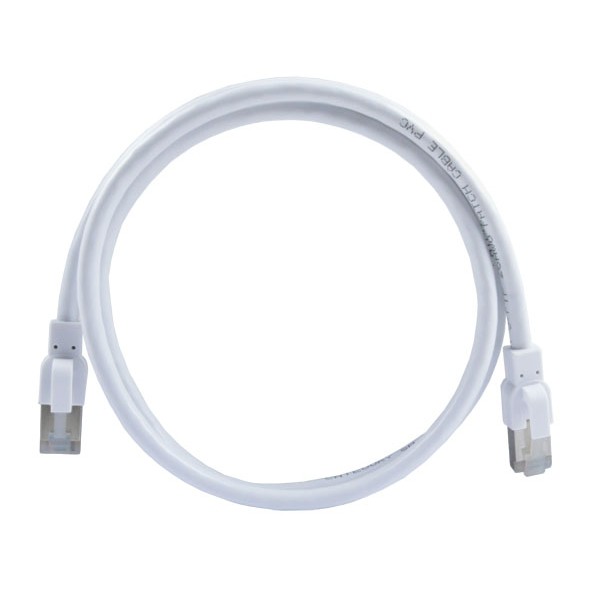 Antibacterial/Antimicrobial CAT6a Shielded Patch Cables from VPI are now available. They are made with antibacterial material proven 99.9% effective in inhibiting bacteria, such as E. coli and staph. The bacteriostatic material is used to make the RJ45 plug, boot, and PVC jacket.
The CAT6A-AB-xx-WHITE-SHLD cables reduce the risk of spreading bacteria and germs as a result of touching the patch cord, and are ideal for hospital/medical facilities, schools, businesses, restaurants/kitchens, and public places that need extra protection against bacteria. These cables are guaranteed for their Antibacterial/Antimicrobial ability by ISO 22196:2011 independent lab test results – Escherichia coli (E. coli) ATCC 8739 >99.9% and Staphylococcus aureus (staph) ATCC >99.9%.
The Antibacterial/Antimicrobial cables are rated for Category 6a 10Gigabit Ethernet applications, and can be used to connect a network card to a 10/100/1000/10GBase-T hub or switch. The shielded cables are wired straight through and support 500MHz bandwidth. Complying with TIA/EIA 568B standard, the cables are suitable for use at high temperatures up to 167°F (75°C). The 26AWG S/FTP cable is available in lengths of 1/2/3/5/7/10/15/25/35/50 feet.
For more details contact our Technical Sales Team
---