On/Off/Reboot - Remotely control power with NTI
The ENVIROMUX® Remote Power Reboot Switch allows you to remotely reboot and control power (on/off) to a server or other powered device over IP. The Easy-to-use web interface makes controlling power from anywhere in the world child's play.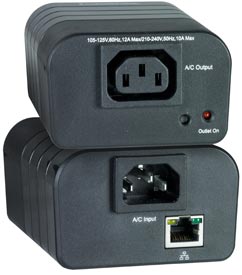 The Reboot Switch has a myriad of benefits. It gives you the ability to remote reboot any device, router, server or kiosk. The device need not be network attached.
With the increased threat of cyber crime, the Reboot Switch provides great protection to any of your equipment. Secure sensitive devices by keeping them powered off when not in use, preventing hackers from detecting them at all times.
Plus there are other economic benefits. Power down equipment when not needed for power savings and to save on wear and tear.
Power up alert devices like sirens, lamps, and messages, or environmental system like heaters, coolers, pumps, etc. It's a perfect fit for NTI's environmental monitoring systems.
Take a look at NTI's full range of environmental monitoring products to see how we can help secure your system
---