When your cables need to stay strong and durable in the toughest of conditions, an armoured jacket is likely to be the perfect solution for you. Armoured cables are cables with a metal or plastic covering layer that provides protection that is much stronger than any traditional type of cable jacket.
Newnex 4-Port USB 3.0 Industrial Hub, FireNEX™-uHUB, receives the compliance certification from USB Implementers Forum (USB-IF, the organization that develops the USB standard) on November 8, 2019. This certification has been posted on the USB-IF integrators list and can be found with Test Identification Number (TID) 2388.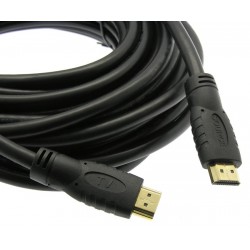 VPI's 4K HDMI Active Cables enhance the video signal without the use of an external power source. The embedded chipset boosts the signal from the source, ideal for connecting a 4K display at longer distances than a standard HDMI cable. These cables are directional with connector ends that are labeled.
The E-STHS-LSH has an internal fan that consistently draws air in over the sensor, providing highly accurate temperature readings. It is ideal for installations where steep temperature gradients are common, where there is little to no air flow, or for use in freezers where there is intermittent air flow.